Open Door Friendship Community Centre
If you would like to learn more about the Open Door Friendship Centre, you can visit our dedicated Facebook Page, and to keep up-to-date with activities going on around the Trust (including the Open Door Friendship Centre)
You can visit our events page, and read our blog to see what is happening and read more about the ministry of Hope Garden, the Open Door Friendship Centre & Azadi Trust
A Brief History of the Project
In 2001, Sheryll Erickson proposed the idea of a local Community Centre which could also be used as a base for local mission work for Christians involved in cross-cultural, church community work in a socially deprived area of Birmingham. Sheryll had recently visited a similar project in another major city, run by a Christian charity, which was operated out of a non-church building. She learned how it was being used to add value to its surrounding community by offering ESL and other classes as well as conducting drop-in advice sessions, and running after school clubs for children. She suggested it might be a good model to consider for Birmingham, and the small group of Christians, which included Mike & Liz Hodges, John & Irene Johnson.
Over the next few years, the idea was discussed with various Birmingham charities, and all agreed it would be worth pursuing. Visits were also made to several other similar centres in other cities to learn the different ways they were able to help their communities.
A Feasibility Report was completed in 2008 and a project fund was also set up to receive contributions.
It was believed that such a project would enable Christians from various denominational and ethnic backgrounds to work together in unity to serve the community while demonstrating Christ's love through deed and word.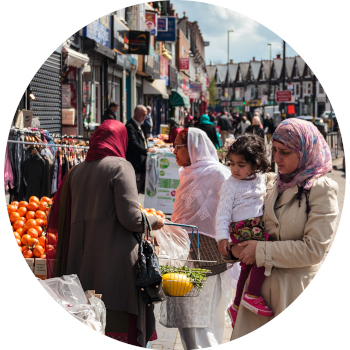 The Aims for this project were to:
Provide a safe, neutral space for local people of all faiths to meet without conflict
Provide a base for outreach and service to the local community
Provide facilities and activities for the local community
Foster friendships between people of diverse backgrounds
Promote links between churches, charities and communities
Be operated by volunteers from churches and charities supportive of its Christian beliefs
Help train volunteers in cross-cultural awareness and sensitivity
Proceed as God provided funds through sources compatible with its values
Later in 2008, Joyce Bourcier moved to Birmingham with a desire to help promote, resource the development of the project. Over the next couple of years, she, John and Mike conducted several meetings with various groups to talk about the vision, invite their input, and develop a support base. This also involved setting up a Steering Group of several Christians from local churches and charities.
In 2009 the Trustees of Azadi Trust approved a proposal from Mike for the Centre to come under the umbrella of the Trust.
In 2010, a contest was held to find a suitable name for the project, and the "Open Door Friendship Centre" was chosen.
During the following two years, Joyce, Mike and John continued to meet with interested individuals to determine a suitable location for the new centre. After much consideration, Small Heath was deemed the most suitable option, especially because of the few, under-resourced churches that were in the local area.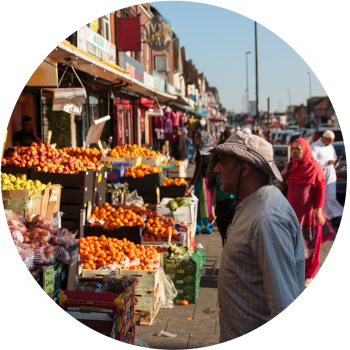 388 Green Lane became available in 2012 and following the necessary legal proceedings, preliminary renovation work began in February 2013.
Over the following months, Azadi Trust was blessed with dozens of volunteers from various churches and charities who gave a lot of their time to the renovation of the former ladies fitness centre, from fitting the new kitchen to installing the double walls.
The Centre finally opened on 12 October 2013, when four city councillors were present to cut the ribbon.
Soon after opening, volunteers began serving the community by offering English conversational classes, conducting advice sessions, hosting tea & chat drop-in times.
From the beginning, the Open Door Friendship Centre (or ODFC as it is affectionately known) has been managed and run by volunteers. These volunteers have come from many different churches and several charities. Some have been college and university students. Quite a few have come from many different countries. Some have come for a few weeks but others for many months or even years.
The amount of these volunteers working at the Open Door Friendship Centre has fluctuated over time, sometimes meaning the number of activities on offer at the Centre as well as the number of days each week the ODFC is open has changed. However God has continued to be faithful in providing the finances for the operation and maintenance of the Open Door Friendship Centre, and a variety of activities continued, even though some sessions had to be discontinued.
Following Joyce's retirement in 2017, the pending retirement of the Johnsons in 2018, and after much prayer, it was felt that there was the need for a full-time project manager to take the Centre forward. A young couple, Tim & Jess Steele seconded to manage the Open Door Friendship Centre on behalf of Azadi Trust early in 2018.
Fast Forward to Today:
Since taking leadership of the project in 2018, Tim & Jess Steele have continued to develop the activities and community links at the Friendship Centre.
The centre can offer a wide variety of activities including computer classes, sewing classes and cooking classes well as homework & afterschool clubs, mother & toddler sessions, and term break, fun activities for children, including a previous outing to the Dudley Zoo.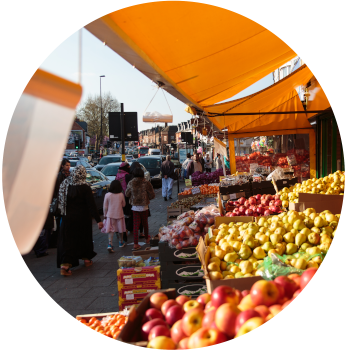 Connections with local schools have also been made, enabling Tim & Jess to take Bible Society's 'Open the Book' into assemblies and promoting the clubs and activities of the Centre.
Links with local businesses have also been made whether the shop where the centre buys the tea and coffee supplies or helping a local business with setting up their accounts, in one of our advice sessions offered by the volunteers at ODFC.
The Open Door Friendship Centre continues to be a support and blessing to the local community and those who visit the Centre, Whether it be through friendships made, new skills learned or enhanced.
The advice and advocacy offered by volunteers on behalf of members of the community, has sadly, been a very sort-after, and much-needed service by the local community. Many of our regulars speak little English or live in very difficult conditions, some are refugees seeking to settle in the UK who currently have little to no income.
Perhaps some of the comments we have received from some of our regulars show the value in the work we do….
"I don't know what I would do if you weren't here, I would have nowhere else to go"
"I love coming here because you are all such nice people, I come here because your prayers mean so much"
Reaching out to the local community in the smallest way, by offering a safe place for people where they can find support and peace if only for a little while, allows us to reach out with the love of Christ in both a supportive and practical way.
If you would like to know more about the work of the Open Door Friendship Centre, or how you can volunteer, please Contact Us here.
Photographs on this page for illustrative purposes only, used under licence istock.com/NewStreetPhoto